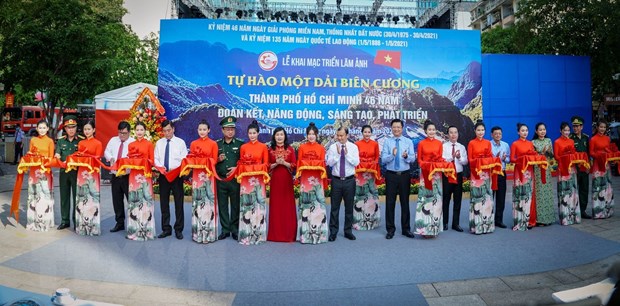 On April 26, in Ho Chi Minh City, the Central Propaganda Department and the Vietnam Association of Photographic Artists organized a photo exhibition with the theme "Proud of a frontier" on the occasion of the 46th anniversary of the Liberation Day of Vietnam. South, reunify the country (April 30, 1975 – April 30, 2021) and 135 years of International Labor Day (May 1, 1886 – May 1, 2021).
Speaking at the opening of the exhibition, To Dai Phong, Deputy Head of the Propaganda Department of the Ho Chi Minh City Party Committee, said that in order to recognize and spread the meaning of simple and sacred activities and deeds, honoring the The Communist Party of Vietnam is working day and night to preserve and firmly defend the border of the Fatherland, affirm the achievements the country has won under the leadership of the Party and protect the integrity of national sovereignty and territory…, the Central Propaganda Department In collaboration with the Ministry of Culture, Sports and Tourism, the General Department of Politics of the Vietnam People's Army, the Vietnam Association of Photographers organizes a photo contest with the theme "Proud of a frontier. "
The contest attracted the attention of people, professional and amateur photography artists across the country, with many high-quality and emotional works, vividly reflecting the beauty of the homeland, the country and the people of Vietnam. and forces to protect the sovereignty in the land border areas of the country.
The Organizing Committee selected to introduce to the public 196 typical works, of which 21 won prizes, including 2 First prizes, 3 Second prizes, 6 Third prizes and 10 Consolation prizes.
The exhibition works are highly aesthetic, creative, meet the criteria of layout, lines, light, rich content, portray in a relatively comprehensive way the beauty of the homeland and the country. Vietnamese people in the land border areas of the country.
These are also photographic works that reflect realistically and vividly the unique features in daily life and production; cultural works, festivals and art forms imbued with the folklore of ethnic minorities; honestly reflect the daily life, study, training, readiness to fight to protect territorial sovereignty and national border security of the armed forces, border guards, and build a heart-warming stance. the people, strengthening the people's trust and love, sticking blood and blood with the people to ensure the peace of the Fatherland.
In addition, the exhibition briefly introduces the heroic struggle of the South Vietnamese army and people in the resistance war against the US for national salvation through typical events such as the National Day against the US on March 19, 1950; Dong Khoi movement 1960; Ap Bac victory 1963; Movement "Three Ready"; The General Offensive and Uprising of the Spring Mau Than 1968…
The exhibition is slated to end on May 7.